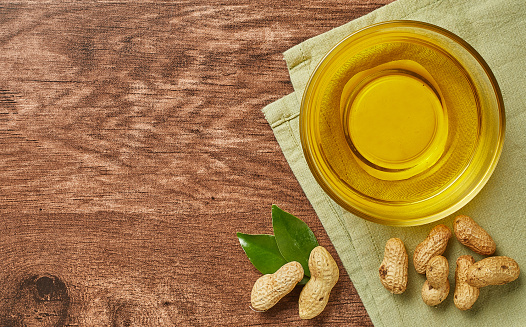 Groundnut or peanut oil is a vegetable oil derived from peanuts. Peanut oil has a mild or neutral flavour that tastes amazing when consumed. Manufacturers use roasted peanuts to make groundnut oil.


This oil has a strong aroma that is amazing and unique. Ground nut oil's smoking point is higher than other cooking oils. Thus many people prefer to use groundnut oil for everyday cooking.


Nutrition Benefits of Groundnut Oil


The significant health benefits of consuming groundnut oil are as follows-


Groundnut oil is rich in antioxidants and vitamin E, offering protective benefits against chronic disease. Ground nut oil has a healthy fat content that is useful for your diet.
Groundnut oil is good for the heart, with high vitamin E and monosaturated fats. Unsaturated good fat can reduce the risk of heart disease. Vitamin E protects your body from free radicals that can damage cells and cause cancers.
The monosaturated fats in groundnut oil can reduce cholesterol levels and the risk of heart disease and stroke.
Groundnut oil is high in antioxidant that is good for your heart and maintains the blood sugar level. Groundnut oil contains phytochemicals and vitamin E that works as an antioxidant.
Due to the presence of vitamin E, groundnut oil is good for skin health and makes the skin look healthy and young. It also prevents premature aging, free radicals, and wrinkles.
Regular consumption of groundnut oil can reduce cognitive diseases such as dementia and Alzheimer's.
Ground Nut oil-Making Process


The groundnut oil-making process is unique, from harvested groundnuts to pure edible peanut oil. Preprocessing, pre-pressing, crude peanut oil refining, and solvent extraction are necessary for making groundnut oil.


Groundnuts should be pre-processed before sending to the expelling department. For edible use, pressed filter presses should refine crude groundnut oil. Edible groundnut oil wholesalers and manufacturers follow this unique process for making groundnut oil.
Natural Groundnut Oil


Cold-pressed groundnut oil is made from superior quality handpicked groundnut using traditional cold processing. Cold-pressed groundnut oil can ensure 100% natural oil by maintaining all its ingredients intact.


It ensures that the original flavour of groundnut oil can maintain its aroma and taste for a long time. You can search online to choose the best quality natural groundnut oil.


Reasons for Choosing Groundnut Oil over other Oil


The significant reasons why you should choose groundnut oil over other cooking oils are as follows-


Groundnut oil is reusable. It can be filtered, and you can use it several times.
Groundnut oil has a neutral taste; thus, it does not hamper the original taste of a dish. Groundnut oil does not absorb the taste of the ingredients.
Groundnut oil is cost-effective.
You can store groundnut oil for a long time.
Due to the high smoking point, groundnut oil is useful for deep fry
From the above information, you should understand the requirement of choosing an authentic edible groundnut oil wholesaler who can give you authentic groundnut oil at an affordable price